Earlier this month the 34th overall pick in the 2015 draft – defencemen Travis Dermott debuted for the Toronto Maple Leafs. In just 59 games played last season Dermott put up some great numbers with the Toronto Marlies – 5 Goals, 19 Assists, 24 PTS – As well as 1 goal and 4 assists in 12 playoff games with the Marlies in 2016-2017
This season he has put up even bigger numbers. Over just 28 games, the Newmarket Ontario native has 2 goals, 16 assists, 18 pts and a +15 plus minus rating.
During his first two games in the NHL – Dermott wore #3 – the number of previous Leafs defencemen Alexey Marchenko and the Leafs' former exiled captain Dion Phanuef.
Prior to the Leafs bye week – Dermott was sent back down to the Marlies. When he was recalled on Jan 15th – the Leafs nation hysteria began.
Dermott was wearing #23 instead of #3

After it was revealed that the decision to change Dermott from #3 to #23 was not his own; but a decision made independently by the Leafs organization – the entire Leafs nation lost their minds and slipped into utter  hysteria – trying to piece together a scenario where Dermott's #3 was changed to be reserved for a future acquisition via trade.
Case and point:
Now – here is my two cents. Let's all take a step back, exhale and realize that this is nothing more than sensationalism and exaggeration…
---
Point #1: Dermott had to change his number.
Dermott wore #44 with the Erie Otters and #44 is taken on the Leafs by Morgan Rielly. Dermott wore #8 on the Marlies  – #8 is taken on the Leafs by Connor Carrick. Also, no one mentions that when Dermott played in pre-season for the Leafs – he wore #57
---

Point #2: First year NHL players do not get to choose their own numbers.
Nazem Kadri wore #91 for the London Knights, with the Marlies he wore #13 and as a Leaf he was forced to wear #43 in his rookie year – and kept #43 because he felt it grew on him. Mitch Marner wore #93 for the London Knights and was given the #16 in his rookie season as a Leaf and stuck with it. William Nylander wore #62 on the Marlies and had was given the #29 when he joined the Leafs. The only reason Auston Matthews was able to keep his #34 – was because he went through the same rookie initiation in the Swiss League. When Matthews played Jr. for the USA development team – he wore #19 – when he joined ZSC Lions in the Swiss League – he was given the #34 – as any rookie with MOST pro-teams, they are not allowed to chose their own numbers. The flashy higher numbers are replaced by the lower, non-significant numbers to show these players they have to earn their right to pick their own numbers. In the same case as Nazem Kadri, Matthews stuck with #34 when he joined the NHL because he felt it grew on him.
*ADDENDUM*
What number does Kasper Kapanen really wear ??
No this isn't a some kind of Mandella effect theory or anything like that – I simply want to prove further how often Lou has done this 'switcheroo' thing with rookies and their numbers.
Here is Kapanen after scoring the game 2 OT winner vs the Washington Capitals in last year's playoffs.
Here is Kapanen during rookie camp last year.

Here is Kapanen during regular season this year.

Here is Kapanen ALSO this year.

In a span of just over a calendar year – Kasper Kapanen has worn #28, #29, #37 & #24
The switch between #37 & #24 – was during the season – after he had been sent down and then recalled.
Point being – Lou does this all the time
---
Point #3: Lou's rules
We all know that Lou Lamoriello is an all around – business professional. However, we also know from the statements of many people that have worked around him in his 28 years in the league – that Lou is also very superstitious. It was rumored, when Lou was with the Devils; that he had a rule that no one could wear the #13, #66 or the #77 because he thought it was a 'curse.' This rumor was in fact confirmed, at least with the number #13; The year after Mr. Lamoriello left the Devils, the New Jersey beat reporters made note of this change within the organization.
"Todd Cordell, who covers the Devils for HockeyBuzz, reported that Mike Cammalleri would wear uniform number 13 this season, becoming the first Devil to ever don the number. Cammalleri had played most of his career in the number 13, but took number 23 after arriving in New Jersey due to the organization's policy to never give out that number. With Lou no longer with the Devils, though, it appears the times are a-changing. The Devils confirmed today that Cammalleri would indeed be wearing number 13 this season"

source: https://www.allaboutthejersey.com/2015/8/5/9094865/as-lou-lamoriello-departs-so-do-many-of-his-quirks
This rule probably still exists for him, but now – obviously, with the Leafs. So if you apply that reasoning – Mr. Superstitious Lou probably didn't like the fact that his young 'rising star' defensemen is wearing the number of the previous captain – who was known by fans as a defensive liability for all the years he was with the team.
As all Leaf fans know, as much as Lou was said to 'admire' Dion Phaneuf, and as much as he claimed to be 'impressed' by him for being an 'exemplary' Maple Leaf. Lou's biggest splash was made as the new GM of this team by doing the unthinkable – trading Dion Phaneuf. A transaction, Lou said he had 'no choice but to make.' – Lamoriello needed to make this move because he knew Dion was not what this team needed going forward, and not only that – but it was a move he was more than likely brought into make – an overall successful move and a championship move at that – regardless of their needs and wants – the plan was, from the start – to strip this team down and make it his own. ' Leafs' coach Mike Babcock even said it himself at the time of the trade. "It's a good decision for our club, following the plan that we've had in place since [the season] started."
So it is more than obvious, after seeing first hand the level of superstition that Mr. Lamoriello  subscribes to – that he felt the removal of Phaneuf was the start of a new age. So when the #3 left – so did all the memories of a botched captaincy and a team destined for failure. Lou got rid of that. Forever.
[Marchenko doesn't count, don't even try.]
---
Point #4: The Legacy Of Al Arbour
Al Arbour – who coached the second most games in the NHL, is fourth most winning coach in the league's history – and – won four Stanley Cups; played for the Leafs from 1961 – 1967. He died three years ago at the age of 82; and more than likely, he will have his number retired by the Leafs at some point – sooner than later. This is in-fact, to me – the most reasonable answer of all.
---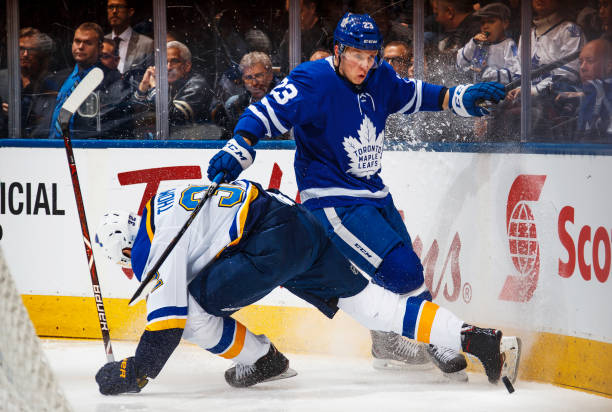 So to conclude. It is more than obvious that Leaf fans are looking far to much into this – in no sense would the Leafs ever change someone's number because they want to get someone else in at that spot with that number. Especially not a professional like Lou Lamoriello – that is just juvenile. This whole 'they must be making a trade for a guy who wears #3.' is the most asinine concept I've ever heard. Even for Leafs Nation.
So please, let's all get real here.
– Al Mac.
@AlmacSportsTO